Beat the summer boredom with a book-themed party!
The post How to Throw a Book-themed Party for Kids appeared first on Redeemed Reader.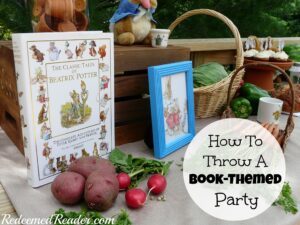 (Originally published at Redeemed Reader on July 10, 2013, in connection with that year's Summer Reading Challenge)
This week on our Summer Reading Challenge, we're visiting the British Isles. To celebrate, we invited Kristen of Celebrate Every Day With Me to share her party-planning expertise with us–and help us throw a party with the works of treasured British children's author, Beatrix Potter.
Great for birthdays, Kindergarten graduations, or other occasions, a book party is not only loads of fun, it encourages your child's and her friends' imagination and love of reading. When it comes to raising readers…maybe "let them eat cake" really is good advice!
A Party with Peter Rabbit
Ah, the magic of books. They encourage the imagination. They whisk the reader to new worlds, thrilling adventures and great mysteries, all the while teaching valuable lessons and sharing new discoveries. But even more than that, they can be used to plan the most amazing parties! Whether you are throwing a children's party or baby shower, a book-themed event may be just what you need to inspire a creative and fantastic party.
First thing to do? Choose your book. Think about the occasion, your audience, their age and interests.
Once you have selected the book upon which to base your party, grab a notebook and read the story . . . several times. Write down any details you can use in your party. Be thinking about three categories: decor, food and activities. Write down creative adjectives and objects. Notice the colors, special characters and names, and foods eaten. This is free thought brainstorming. No rules, just jot down anything that stands out or is something you particularly like.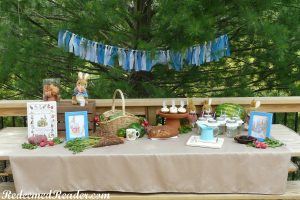 For my children's party, I chose English author, Beatrix Potter's The Tale of Peter Rabbit. As I read through it several times, I noticed things like Peter's blue jacket, the assortment of vegetables, the blackberries that Flopsy, Mopsy and Cottontail ate, the garden, the loaf of bread Peter's mother bought, the various animals, the watering can and of course, Peter's tearful dilemma of getting out of Mr. McGregor's garden. With these things in mind, I began to plan my book-themed party.
Let's look at the three primary categories to party planning:
Decor: The color scheme can be pulled from any key element of the book. For Peter Rabbit, I used blues and browns. Blue for Peter's coat and brown for good old garden dirt.
As you read through the book, look for colors you can incorporate into your party. For an Anne of Green Gables party, you might choose a light summery color scheme from a quilt-like floral pattern. For Curious George, your main color would be yellow for the man's hat. (For more help on selecting a party color scheme, see here.)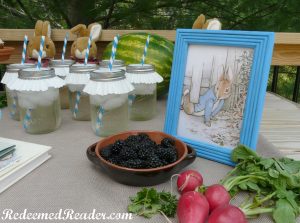 Gather items from the story and begin to decorate your tables and party space. An inexpensive way to accent your table is with old painted frames and artwork from the story. For a Dr. Suess party I threw last year, I cut up an old (and extra) copy of Green Eggs and Ham. If the book falls under public domain, you can simply print clip art like I did for this party.
Food: When planning your book-themed menu, think about what the characters ate in your book. If there is not specific food mentioned, what would they have eaten?
Rabbits like carrots. So for our Peter Rabbit party, I served carrot cake cupcakes. (I wasn't about to make our young guests eat radishes and parsley!) We offered Flopsy, Mopsy and Cottontail's blackberries and a clear fruit punch served in mason jars to go with a garden-friendly theme.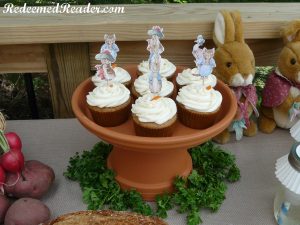 Think of creative names you can give the food. For a Peter Pan party, you may serve Lost Boy's Lemonade or Mermaid Lagoon Water. For an Anne of Green Gables party, you may choose to serve Raspberry Cordial Tarts or Avonlea Apple Pie. Be creative and have fun.
Activities: If you are throwing a children's party, reading all or a portion of the story is a great way to draw the kids in. For Peter Rabbit, I read one of the stories and then we acted the story out with props. Each kid got to play a different character and they loved it!
Because so much of Peter Rabbit took place in a garden, our other activity was to plant seeds in little terra cotta pots that the kids could take home. When thinking about activities, think of any conflict in the book. Can you create a game to mimic the character's solution to the problem? Children have great imaginations, use them!
For a baby shower, think of questions you can ask from a classic story for a trivia game. Gather items mentioned in the story for a memory-style competition. Take traditional shower games and adapt them to fit your book-themed event.
A book-themed party is a fun way to draw your guests into another world. After our Peter Rabbit party, my kids continued for the next couple days to act out Mr. McGregor chasing Peter Rabbit around the garden. They were smitten with the story and wanted more.
Have you thrown a book-themed party? Which book did you or would you like to use? We'd love to hear some of your ideas!
Would you like to see more? You can check out the Peter Rabbit invitations, party favors and more at Celebrate Every Day with Me.
——-
Kristen Summers is a fun-loving mom to two kids who keep her busy and laughing. Add her great husband and the Lord to the mix and her life is one fantastic (and sometimes crazy) adventure. Kristen is the author of Teach Me To Serve: 99 Ways Preschoolers Can Learn to Serve & Bless Others. A former wedding & event planner, you can now find her blogging at Celebrate Every Day With Me where she shares fun ideas for children's activities, creating memorable moments and party planning. Stop by and celebrate the everyday of life.
Thanks so much, Kristen! I love this idea, as well as the guidance on how to throw my own book-themed party. For a few more ideas about how to use books creatively, see our Mission Work for Kids: Sewing School and What's on the Menu? Literary Cookbooks. And don't forget to tell us which book parties you've tried–or would like to try!

The post How to Throw a Book-themed Party for Kids appeared first on Redeemed Reader.
[youtube-feed feed=1]
[youtube-feed feed=2]
[youtube-feed feed=3]
[youtube-feed feed=6]
[youtube-feed feed=4]
[youtube-feed feed=5]