Land of Hope offers a balanced, positive, and often inspiring view of American history.
The post *Land of Hope by Wilfred McClay appeared first on Redeemed Reader.
Land of Hope offers a balanced, positive, and often inspiring view of American history–now available in student workbook, teacher's guide, and young-reader editions!
*Land of Hope: an Invitation to the Great American Story by Wilfred McClay. Encounter Books, 2019, 429 pages +bibliography and index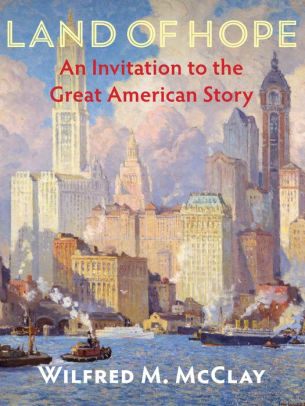 Note: This review was originally posted July 4, 2021.
Reading Level: Teen, ages 16-up
Recommended for: teens and adults
The story of America begins long
before the discovery of America. Throughout
history, "the west" has held a peculiar hold on cultured imaginations: a place
for starting over or ending well, for building or recovering some lost
ideal. Atlantis, Utopia, and the Elysian
Fields were hopeful myths that actually began to come true on that October day
in 1492 when a Spanish sailor serving under an Italian captain first sighted
land.
Over the last 50 years the
study of American history has become fragmented, highly politicized, and toxic,
with Howard Zinn's People's History of the
United States a well-known example.
Zinn's bitter socialist take on America has become a standard text in
many high schools and colleges, making the need for a balanced, positive history
of our country all the more urgent.
"History always begins in the middle of things," writes Professor Wilfred McClay in this new, wide-focus biography of the United States. American history begins not only with the scattered native settlements dating back some 20-30,000 years. More significantly, it begins with unsettling trends in Europe that bred disruption, invention, reformation, education, and exploration. The quick overview of the unsettlement in Europe that led to settlement in America is an appropriate setup to the rest of the story. The narrative approach employed by Prof. McClay is not merely a series of events but a series of ideas that drove the settling and eventual founding of a new nation.
With so much ground to cover, details pass in a blur. After a whole chapter of events leading up to the Revolutionary War, the war itself takes only six pages. Ten pages describe the less dramatic but more significant evolution of our constitutional government, followed by four pages on the institution of slavery, our "original sin." Since all of American history, for some, has come to revolve around American injustices, the author provides some valuable perspective: ". . . it would be profoundly wrong to contend, as some do, that the United States was 'founded on' slavery . . ."
No, it was founded on other principles entirely, on principles of liberty and self-rule that had been discovered and defined and refined and enshrined through the tempering effects of several turbulent centuries of European and British and American history. Those foundational principles would win out in the end, though not without much struggle and striving, and eventual bloodshed. The United States enjoyed a miraculous birth, but it was not the product of an unstained conception and an untroubled delivery. Few things are.
Prof. McClay writes with an
elegant style and draws some breathtaking concept arcs. That said, the pages and pages of text (no in-text
pictures, except for maps) can be intimidating for the average high-schooler. A
moderate amount of illustration and charts would have provided some further illumination,
but 24 pages of color portraits and photographs are bound into the middle. Those who already love history will love this. It may be more of a challenge for newbies,
but if you're looking for a standard American history that explores our faults
as well as our "Great American Story," Land
of Hope is well worth the price.
Cautions: None
Overall rating: 5 (out of 5)
Worldview/moral value: 5
Artistic value: 5
Note: Since this review was published, Land of Hope is now available as a student workbook, a teacher's guide, and a Young-Reader edition.
Also at Redeemed Reader:
The post *Land of Hope by Wilfred McClay appeared first on Redeemed Reader.
[youtube-feed feed=1]
[youtube-feed feed=2]
[youtube-feed feed=3]
[youtube-feed feed=6]
[youtube-feed feed=4]
[youtube-feed feed=5]