American Born Chinese is a coming-of-age story with great spiritual insight in graphic novel format.
The post The Magician's Elephant by Kate DiCamillo appeared first on Redeemed Reader.
The Magician's Elephant is a delicately written (and illustrated) fairy tale of one boy's longing for family, one girl's longing for home, and an elephant who longs for both.
The Magician's Elephant by Kate DiCamillo. Candlewick, 2015 (reprint). 224 pages.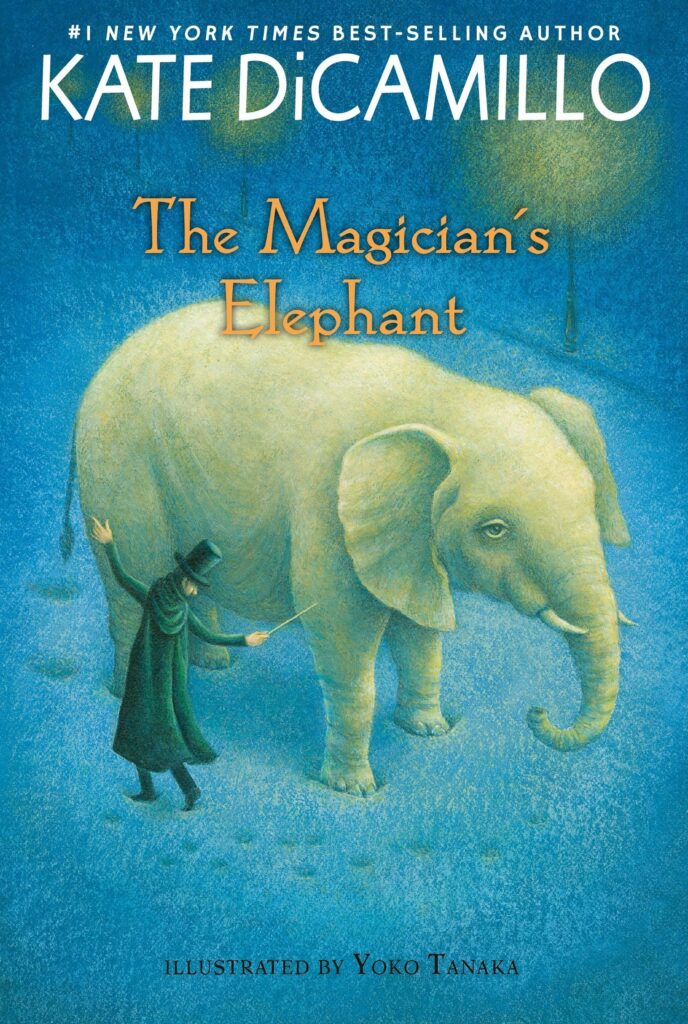 Reading Level: Middle Grades, ages 8-10
Recommended for: Ages 6+
Peter Augustus Duchene is an orphan. Peter lives with a curmudgeonly old man who is determined to make a soldier out of Peter even he relives his own glory days. But Peter has begun to question if the old man has been entirely honest with him. Peter remembers his sister Adele crying when she was born, although the old man insists the baby died at childbirth (as did Peter's mother). When Peter spies a fortuneteller, he knows it's time: he will ask the fortuneteller whether his sister lives.
The fortuneteller's response to Peter's question is to follow the elephant. (?!)
Simultaneously, a magician is performing tricks for an audience. Just once he longs to do something really splendid. Subconsciously, this desire causes him to call down an elephant which lands on a rich old woman, breaking her legs and relegating her to a wheelchair.
Across town, a young girl in an orphanage spies an elephant in the middle of the city. The elephant longs to go home. As does the girl.
Sound fantastic? It is. The Magician's Elephant is a fantastical tale indeed. DiCamillo is an expert at creating memorable characters, and this book is no exception. Her spare prose coupled with Tanaka's illustrations give this book a dreamlike quality, not unlike many Victorian children's novels (such as At the Back of the North Wind by George MacDonald). DiCamillo might write delicately, but the questions she raises are at the core of every human's experience: where do I belong? With whom do I belong? Does magic exist? Is this world all there is? What is really important in life? Perhaps most significantly, the book reminds readers that we must question the world if we are to change it.
Peter's original question is answered, and the end of the story finds all set to rights. But the journey is fraught with uncertainty, and Peter must be brave. Read this one to your children and let them snuggle in. (Or, listen to the splendid narration by Juliet Stevenson.) Recently made into a movie for Netflix, let me beg you to read the book instead! The movie trailer gives the impression that the movie includes many more silly moments (instead of DiCamillo's understated humor) as well as plot elements that aren't in the original.
Considerations:
It's worth discussing with your children the role questioning plays. As Christians who believe that God is sovereign (and that He created the world), we have the right to question whether something is biblical, whether something or someone should change, and so forth; we do not need to question whether God is in control and whether we can trust the Bible.
Overall rating: 4.0
Worldview/moral value: 4.0
Artistic/literary value: 4.0
Read more about our ratings here.
Also at Redeemed Reader:
We are participants in the Amazon LLC affiliate program; purchases you make through affiliate links like the one below may earn us a commission. Read more here.
The post The Magician's Elephant by Kate DiCamillo appeared first on Redeemed Reader.
[youtube-feed feed=1]
[youtube-feed feed=2]
[youtube-feed feed=3]
[youtube-feed feed=6]
[youtube-feed feed=4]
[youtube-feed feed=5]